Elope with Mr. Minguo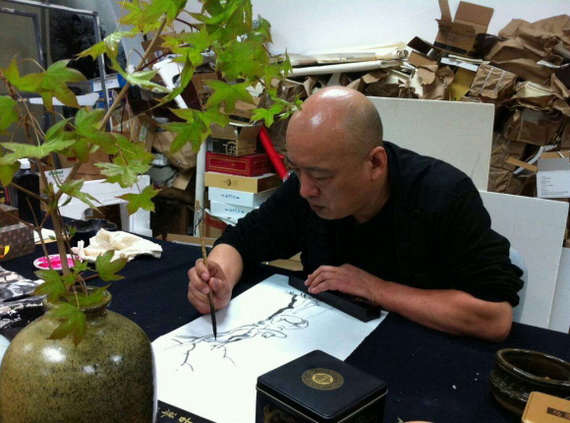 Lao Shu has kept drawing since he opened "Lao Shu Huahua" on Sina Weibo, a Chinese
micro-blogging website, in 2011. He posts one painting a day there, and now has over 
700,000 followers. Each painting is accompanied with a poem, either a sophisticated piece of
self-mockery or a satire pointed at the social reality of modern greed.   Photo by Wen Chihua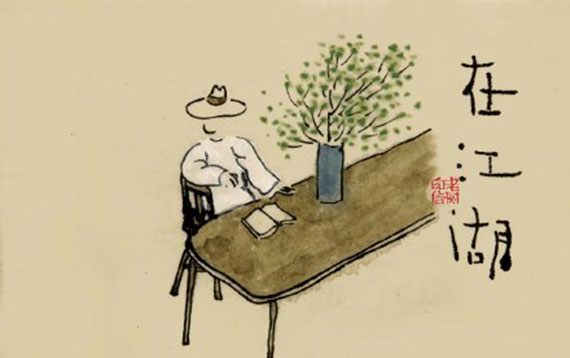 View - http://weibo.com/u/1454064140 + http://v.qq.com/cover/s/squdpbjfzxxnhay.html?vid=
p001622szrj + http://v.qq.com/cover/0/0pz3a1raz71zgeh.html + http://v.qq.com/cover/e/
e5j3aybnpo0by7y.html + http://v.youku.com/v_show/id_XOTExMTUyMTY0.html
Elope with Mr. Minguo
Mr

.

Minguo
Elope with Mr. Minguo
By Wen Chihua  |  CHINA FEATURES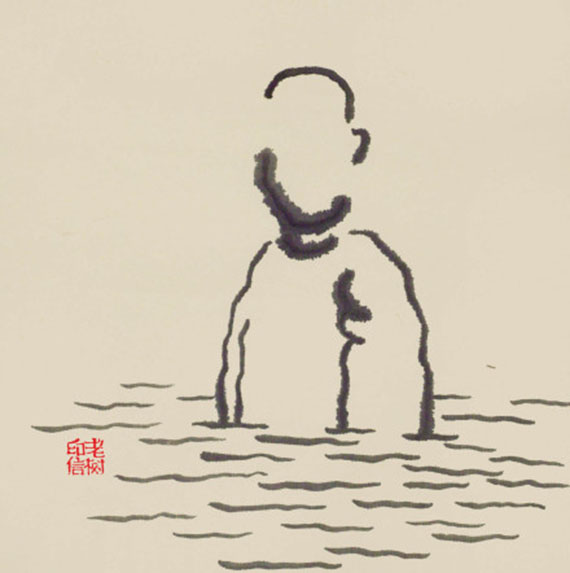 The human character in Lao Shu's
simple 

and quiet 

world is named
Mr. Minguo. 

Portrayed as a gentleman 
wearing 

a long robe and cotton shoes
reminiscent of the 

Republic of China,
he walks along on farm lanes, sits 
under 

trees, stands by a creek,
or leans 

on a broken wall.
 Lao Shu, or "Old Tree", is not a professional painter. Yet, he has gained considerable fame for his Chinese ink-wash paintings going with poetry.
Only because what he draws mirrors people want the most today — a leisurely slow life.
Lao Shu's painting style is wonderful for its simplicity and lightness. But the meaning that is delineated is quite profound. In a few lines and simple tones, his work reflects a life style of the past, the present, and the future.
The human character in Lao Shu's simple and quiet world is named Mr. Minguo. Portrayed as a gentleman wearing a long robe and cotton shoes reminiscent of the Republic of China, he walks along on farm lanes, sits under trees, stands by a creek, or leans on a broken wall.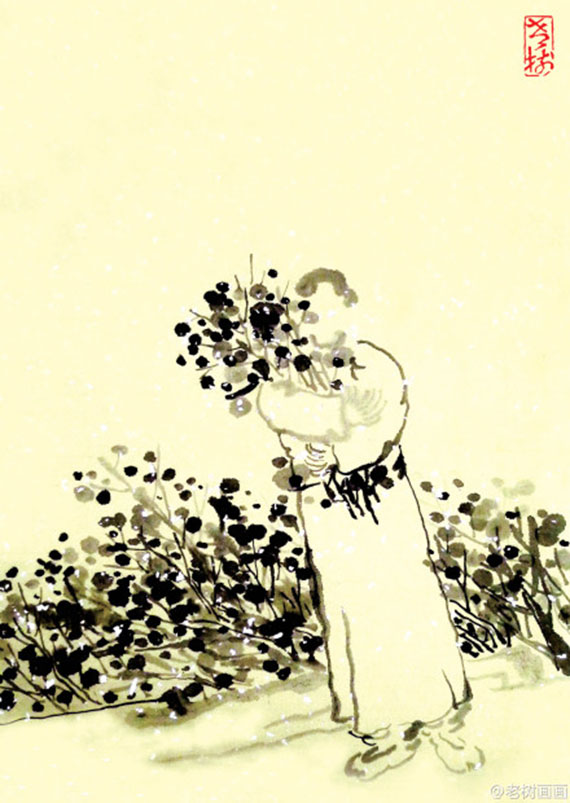 In one painting (left), Mr. Minguo holds a large cluster of wild flowers in his arms. He is standing alone, as though waiting for a spring breeze to come, walking slowly, perhaps towards home.
The poem that accompanies the painting reads "picking wild flowers, I put them in a vase, when it is at midnight, the room fills with the spring breeze."
Most scenarios in Lao Shu's paintings have a touch of an unworldly smell of worldly daily life.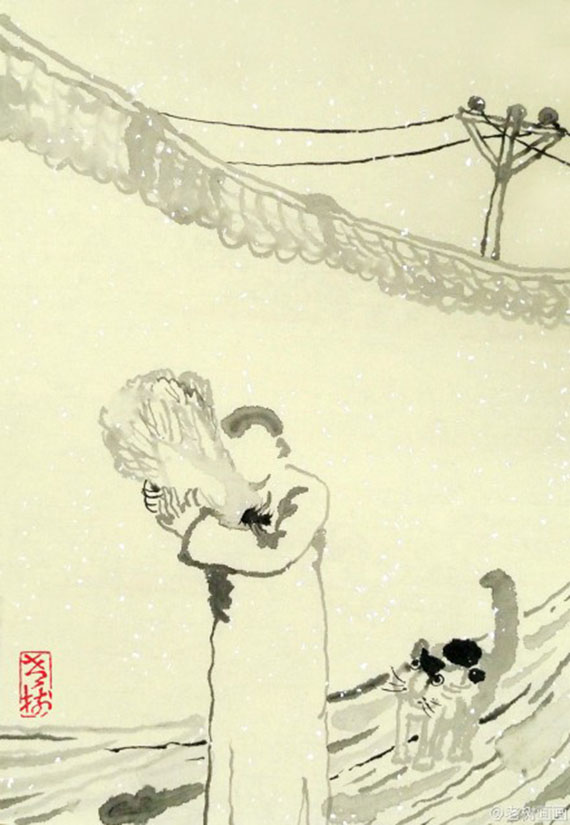 In another painting (left), Mr. Minguo is shown leaving a farmer's market with a Chinese cabbage in his arms, close to his body, as if holding a bouquet to give to his lover. The verse for the painting speaks out Mr. Miguo's internal monologue:"Coming into farmer's market, I catch sight of a cabbage. It looks smooth and tender, I take it home to love."
One critic pointed that having a poem along with a painting suggests that the painting is not powerful or expressive enough by itself.
Lao Shu disagrees. "Painting," he claims, "is a visual expression. A poem is a conceptual expression. In classical Chinese brush painting — the most prestigious form of Chinese art, and the provence of the literati for centuries — a poem, some calligraphy, and the drawing always go together. The relation of text to the painting is not one interpreting the other. Rather, it's that one is complementing the other. Like the relationship of a pair of chopsticks to a rice bowl, the chopsticks cannot make a rice bowl larger, and the rice bowl cannot provide the chopsticks with any rice. Yet, a rice bowl and a pair of chopsticks can be artistically matched perfectly."



To be honest, every paining
I've drawn is a drawing of myself.
Indeed, Lao Shu's work is a new take on literati painting that has changed something innate in the medium.
Traditional literati painting tends not to involve society in order to maintain the painter's sense of a personal, noble, and unsullied morality. Vernacular painting actively pursued societal interaction.
But, he combines the lines and shading of literati painting with the intervention of vernacular caricatures.
This is more in keeping with the modern world. Lao Shu notes, "In the past, you could stay in deep mountain seclusion, where you could build a cottage and appreciate the floating clouds, flowing water, and flowers blooming and fading. Now, if you built such a house, officials would find you immediately and demand you demolish it.
Living as a recluse is an unrealistic fantasy for intellectuals today."
At the aesthetic level, Lao Shu's painting has broken the rules. Traditionally, the appreciation of literati painting only occurred among elites. Viewing such art meant gradually unrolling the work so that the viewers saw the painting little by little. Only when work was completely unrolled could viewers see the whole image.
In contrast, Lao Shu puts his paintings online where any viewer can see the entire painting at once. In 2011 he opened "Lao Shu Huahua", on Sina Weibo, a Chinese micro-blogging website. He posts one painting a day there, and now has over 700,000 followers. Each painting is accompanied with a poem, either a sophisticated piece of self-mockery or a satire pointed at the social reality of modern greed.
The drive to put his paintings on his blog is that he, "hoped that professional artists would comment on the work, either critically or providing inspiration. Unexpectedly, the white-collar community has reacted most warmly." The leisure depicted in the paintings coincides their desire to find a way to release their tensions.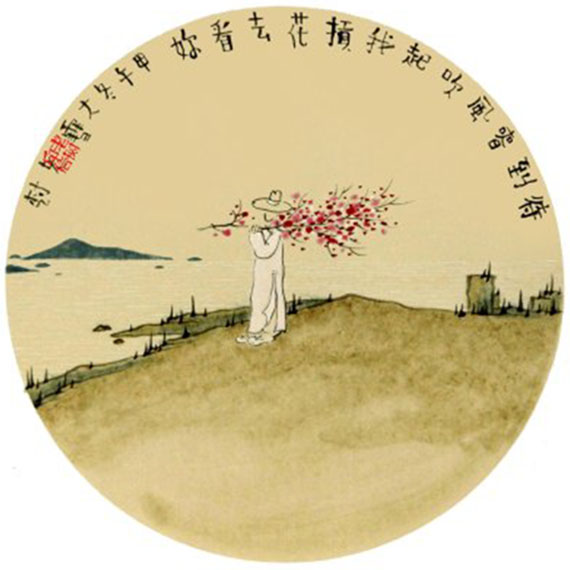 In one piece (left) that looks like the landscape painting of the Song Dynasty, Mr. Minguo is standing on a hill, above a river. He carries the branch from a peach tree, full of blossoms.
The poem in the painting says, "Waiting till the spring breezes blow, I'll shoulder flowers to see you. I want to tell you all my regrets and my faults, Our love is everlasting in my heart."
The inspiration came from the painter's experience when he was a youngster at his hometown Linqu County in China's Shandong Province. One day, on the way home from collecting firewood, he encountered a newly-married woman going to visit her parents. She carried a package wrapped in a cloth with a bright peony flower pattern. As she was walking along, she stopped suddenly, went to the side of road where a wild peach tree was blooming, picked a flower and pinned to the cloth wrap.
"When looking back," he says, "the scenes of daily life at my childhood were so poetic, exactly like those described in The Book of Songs, a collection of folk tunes by Confucius."
The image of Mr. Minguo carrying peach flowers on his shoulder has charmed many women. A netizen called Joy& Free says:"I love this man so much. The branch on his shoulder shows the beautiful scenery of his internal world. I would feel extremely romantic if someday my husband would come to see me with wild flowers on his shoulder like this instead of placing an order at a flower shop on our anniversary day. Nowadays, people are kidnapped by consumerism."
In his art, Lao Shu portrays the same scenes of life that ancient literati painters did: fishermen, wood cutters, farmers, scholars, etc. They are the romanticized images that modern people, including Lao Shu himself, imagine for themselves.
"To be honest," Lao Shu says, "every paining I've drawn is a drawing of myself."
Interestingly, many viewers after seeing his paintings feel the same, like one says "This is a drawing of me", thanks to his work caring for the universality of human desire.
In winter, Lao Shu likes to draw the blooming flowers and green trees of springtime. When the spring arrives, he draws autumn scenes. "That is the universality of human desire — whatever you don't have, you want the most."
Lao Shu wants to present simple beauty and joy that will resonate with his audience. "That's my understanding of humanity at large. When seeing the painting, a viewer with no such experience may image one. One who has had similar experiences may recall them. And one who is undertaking the same tasks can compare his current situation to that portrayed in the image."
The most striking characteristic of Mr. Minguo is that he has no features: no eyes, no eyebrows, no face.
Most people think that the eyes and mouth are necessary to convey a character's ideas and feelings. But Lao Shu believes that "a man's hands and posture actually easily betray his inner secrets, or convey his inner life."

Lao Shu is fascinated by the Minguo period 
or the Republic of China (1912-1949). Lao Shu 
notes that "the Minguo era was bright and clear. 
The elite classes of China and Western culture 
blended naturally, and the societal line was well 
developed in folk society." This is one reason 
why he created the image of Mr. Minguo.
When he started painting in 1979, the figures he drew all had a clear expressive face. Those figures were so vivid that some commented that his painting looks like the great masters Qi Baishi and Pan Tianshou. On hearing this, Lao Shu was uncomfortable because "those nice words only mean my painting lacks my own style." He stopped painting in 1985.
In 2007, his father got gastric cancer. Lao Shu could not sleep for days, so he picked the brush he had laid aside for 20 years and started painting again.
"When I returned, the first thing I painted was an image of Mr. Minguo, standing under a tree, without a face. I found this image so interesting that I have kept this painting style ever since." And the image of Mr. Minguo without facial features becomes the signature of Lao Shu's painting.
Drawing Mr. Minguo, he says, is a way to help solve his own problems at spiritual level. "The private life of my generation, born in the 1960s, has endowed itself with too many grand themes: the significance and the value of life, social obligations and undertakings. Around the age of 40, I began feeling disgusted with such a 'collective personality' imposed on individuals, so I retreated to the internal world. I paint because I personally need to express that internal world. Not for anyone or for anything. I only need to be responsible for the specific life of my own. Just like that, safe and sound."
In the 1990s, Lao Shu threw himself into the studies of visual communication where he became intimately familiar with the images and documents from the Republic of China period. He knows the images, postures, and clothing of that time by heart.
Lao Shu is fascinated by the Minguo period or the Republic of China. He has a seal with four characters engraved on it: Meng Hui Min Guo, or back to Minguo in a dream in English. Lao Shu notes that "the Minguo era was bright and clear. The elite classes of China and Western culture blended naturally, and the societal line was well developed in folk society." This is one reason why he created the image of Mr. Minguo.
Lao Shu's real name is Liu Shuyong (刘树勇). He is a professor of the Culture & Media School at Central University of Finance and Economics in Beijing. A well-established art critic, he is noted for his sharp and insightful thinking. At 53, he is over 6-feet tall, with a deep voice, and a completely shaved head. He likes to make fun of himself, saying "I look like a pig butcher."
And yet, his audience would rather remember him as a big man who has a delicate and sensitive heart, and is trying to elope with his Mr. Minguo to the ideal realm he depicts in his painting.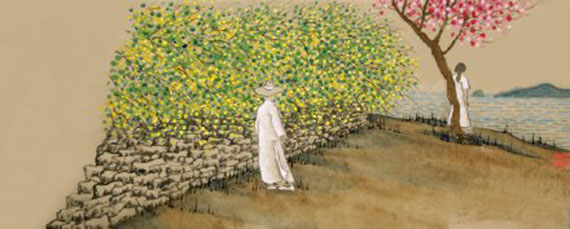 老树: 与无脸民国先生"

私奔

"
                                 作 者: 文 赤 桦  |  中 国 特 稿 社

老树画风似丰子恺,线条简约,大片留白,寓意深远,大有"不乱于心,
不困于情,不畏将来, 不念过往"的气象。同时,画面又呈现出对过去,
现在,以及未来生活方式的某种想象。
老树不是职业画家,然却以绘画而名声大噪。
只因他画出了与现代都市人忙碌生活相反的、求之不得的东西 —— 闲适的慢生活,一种当代人集体寻求平淡的内心真实。
老树的水墨世界很静谧,常见花乱开,表现的是当下人的困境,画中人却是一位民国先生,着长衫戴礼帽穿布鞋,或彳亍陌上,或慵懒斜倚断壁,或端坐红花绿树下,或兀立野渡小舟旁……
老树画风似丰子恺,线条简约,大片留白,寓意深远,大有"不乱于心, 不困于情,不畏将来, 不念过往"的气象。同时,画面又呈现出对过去,现在,以及未来生活方式的某种想象。
他总是把民国先生放在古典山水一隅,让他的心事和生活缓缓展开。其中一幅,民国先生手捧野花一束,郊外独立,仿佛望春风,仿佛姗姗行。但画中的诗又仿佛展开了他内心的另一个情节:"最爱折来野花,回家插在瓶中,感觉到了夜半,一室皆是春风。" 可见,这位民国先生,抑或画家本人等待的是别样的春风。
老树画中情景多是带着浓厚超脱味道的市井生活。有一幅描绘的是民国先生走进农贸市场,买出一颗白菜,一如鲜花捧于怀贴在脸。这样一来,油腻的现实便轻易逃逸了。画上诗道出他的内心独白:"走到农贸市场,看到一颗白菜,那叫一个水灵,抱回谈谈恋爱。" 把常民餐桌上最普通的白菜,比拟为了情人,表明老树在洞彻人生况味、经历惊涛骇浪后的通达和淡定。
有批评家认为,以诗配画,说明画的表现力不够。
但老树说:这是偏见。"画是视觉表达,诗是观念表达。文人画诗书画印四位一体,相得益彰。文与图的关系,不是相互解释,而是互补,就像筷子和碗,筷子不能让碗变大,碗也不能让筷子盛饭,但碗筷可以配合在一起。"
                                      

老  树  画  画

  随  性  自  我
其实,老树画的是一种新文人画,颠覆了传统文人画固有的一些东西。传统文人画多清雅,不介入社会,以保持画家个人的高洁情怀。还有一种,是主动干预社会的世俗绘画。而老树的画,是两者的结合,文人的笔墨写意,漫画式的讽刺干预。也就是说,他绘画中那些貌似遁世的场景,实则是入世的,是对当下社会生活温婉地干预。
他说:"今天的文人画,已经不可能纯粹文人化。过去,你可以隐于大山,盖个茅舍,看行云流水,看花开花落。今天,你盖房试试,马上有人找你,说你违章建筑,拆! 所以,避世和隐居对今天的知识分子来说都是不切实际的幻想。"
而在审美上,老树的画打破了传统文人画审美规矩和形式。传统文人画的观看,只在精英群体中发生,画得缓缓展开,欣赏者从一点一点局部细节看起,等看到整个画面时,一幅画也完全展开了。
但是,老树把抒发个人情怀的画,放进了虚拟的网络世界,观者手指点击界面,一幅画就一览无余了。2011年7月11日,他开通新浪微博"老树画画"以来,几乎每天在微博分享水墨小画一幅,上配打油诗一首,或自嘲或调侃讽刺社会现实,俘获拥趸70万人众。 2015年,官方央视春晚节目组,也请他来为后来跟他的画一样火的歌曲"时间都去哪儿啦" 作画。不过,走上春晚的不是民国先生。
抒发个人情怀的文人画,一旦进入大众视野,进入虚拟的网络世界,就消解了精英气质。老树说,把画放进微博,本是希望得到专业人士的指点。结果,却是白领反应最为热烈,画中的闲适暗合了他们为焦虑找出口的渴望。
在一幅似宋代山水的画中,老树让民国先生肩扛桃花一枝,伫立河边,内心好像纠结,是否渡河看她。这个她,可能是老树曾经爱过的女子,可能是现在爱着的女子,当然,也可能是所有饮食男女被爱欲所困时的纠结。要不,他为啥戚戚然独白:"待到春风吹起,我扛花去看你,说尽千般不是,有意总在心里。"
这幅画的灵感,该是源于他年少时在山东临朐老家的一次经历。一日他打柴回家,路见一位回娘家的新媳妇,挎着印有牡丹花的包袱直直走在路上,路旁桃花盛开。突然,她绕到地里摘了一枝,别在包袱上。老树说:"现在想来,儿时日常生活中的场景,简直就是《诗经》中的场景,何等的诗意啊!"
肩扛桃花的民国先生,身上散发着又虚无又接地气的气息,一下掀起不少现代知识女性内心的潮起潮落。一位名叫"欢喜自在" 的网友说:"好爱这个长衫民国男。他肩上的花,是他内心的美景哦。如果哪天我先生也扛着一枝野花来看我,而不是等到什么节日纪念日,从花店订购一束,就像完成规定动作,我会觉得非常浪漫。今天的人都被消费主义绑架了。"
老树与其说是在一二尺的宣纸上描摹当代人内心没有言说出来的最渴望的生活场景 —— 渔樵耕读,恬淡自在,不如说是他在与这位民国先生"私奔",奔到那个理想国。
老树坦言:"我画的都是我自己。"
但是,由于对人性普遍性的关照,他的画总能在观者中引起共鸣,让每个观者感觉:"咦,这是在画我。"
老树喜在肃杀寒冬,描摹春日里恣意绽放的鲜花,绿叶长满枝桠的树。画里的花,一下给人春天的暖意。而到了春花时节,又想画秋天的景致了。没什么,就想什么,这就是人欲的普遍性。老树希望"通过朴素简单的视角,呈现简单的美好,表达对普遍人性的理解。观者见画中人做的事,没做过的人可以想象,经历过的人可以回忆,正在经历会有比较。" 对观者而言,这无疑达到了一种间离的审美效果。
老树绘画中的民国先生最大特点是:没有眉眼五官。
然而,他眺望的身躯,或微弯的腰身,或拘谨的手脚出卖了他的内心凹凸的沟壑,带出了几分寂寥,几分怅然,几分古朴,还有几分孤立遗世。寥寥几笔,一个隐于市的书生跃然于纸。
常人多以为,眉目最能传情达意。但老树说,人的手或身姿"最容易泄露一个人内心秘密。"
                                     

 

民  国  先  生  不  求  自  得

 
老树早在1979年就开始画画了,所画人物五官俱全,笔墨功夫相当了得,以至于当时就有人说,他画得"多像潘天寿,齐白石,八大山人啊。我心想,骂我吗?没有自己,很痛苦,1985年就不画了。"
2007年,他父亲做胃癌手术,他有了切肤之痛,整夜失眠,于是,重拾搁置20年的画笔。
结果,"一提笔,就画出一个长衫男人,站在树下,没画五官,一看,别有味道,有了感觉,就这样画了。真是求之不得,不求自得。" 他就这样画下来,没有五官的民国先生,已然成了老树绘画的个人化的符号,也成了众人欢喜的有人间烟火味的现实人物。
对1962年出生的老树而言,画民国先生几乎是发乎自然。 他对民国私人生活抱有美好的想象。他有一方印章,上刻"梦回民国"。 民国在他心中是一个比较理想的时代,因为这个时期"明朗清俊,温润平和,精英阶层,中西交融自然,同时,世俗社会没有切断脉络的发展延续。" 在形而上,这是他画民国先生的原因之一。
1990年代,他致力于影像传播研究与实践,翻阅过大量民国时期的影像和文献,可以说民国人物的形象,姿态举止衣衫都烂熟于心。所以,20年不画,一画就画个民国先生,有了自己的风格。
老树,本名刘树勇,正业为中央财经大学文化与传媒学院教授,文艺批评家,思想和文风以尖锐深刻著称,现年53岁,身高一米八有余,留光头,声音浑厚,嬉笑怒骂,随心所欲。他调笑自己说:"看起来像个杀猪的。"
然而,这位体貌粗犷的山东汉子,内心却极其细腻敏感抒情,冲突激烈,焦虑纠结。在当下这个多数人都在"快车道"上奔跑的社会,老树也奈何不得,只好把浪漫抒情的心思付给了水墨,在绘画中追寻大隐于市的境界。在一定意义上,老树本人已然是物质主义笼罩下的焦虑现代人的一个缩影。
很显然,老树对当下多有失望。画民国先生,他说:"是为了解决自己精神层面的问题。我们这一代人的私人生活,曾经被赋予了太多宏大的主题,比如,活着的意义、价值,对社会担当等等。40岁以后,开始反感这种强加给个人的'集体人格',渐渐从喧哗的外部世界回到了内心。我画画,只是个人需要表达,而不是为了谁而画,为了什么而画,我只需要对自己的具体生活负责,如此,安好!"
BLOG EDITOR:  MIAO HONG

38 Comments